Trenchless Sewer Line Replacement In New Jersey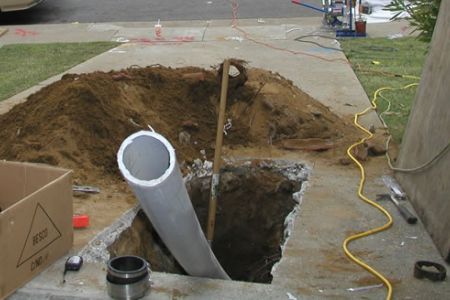 When your sewer lines become damaged, you may feel less bothered over the breakage than you are over the upcoming repair work-which can be drawn-out and costly. Fortunately, you can take the stress out of this process by opting for a trenchless sewer line replacement when a breakage affects your New Jersey home. This process is quick, low-cost, and effective at addressing all manners of issues leading to breakages:
Tree roots growing into your sewer lines
Vehicles parking on top of your lines
General wear and weakening from age
Shifting soil as the weather fluctuates
Of course, to get the most out of your trenchless repair, you'll need to have it handled by an experienced New Jersey drain cleaning professional. That's why you need to look to Jersey Drains when you need to have a broken sewer line addressed the quick and low-cost way. Our dependable team will provide quick work and top-notch results that will have your sewer line functioning once more with minimal mess.
Know When to Get Your Sewer Lines Replaced
Don't wait until the last minute to call us for a trenchless sewer line replacement. Doing so could cause the problem to worsen and require a more involved and much costlier solution. So, be on the lookout for some common indicators of a line breakage: sewage backups, foul odors, inconsistent toilet water levels, etc.
Great Benefits of a Trenchless Replacement
When you get the news that you need to have your old sewer line replaced, your head may be filled with unsightly thoughts of having your yard dug up and your landscaping damaged. That doesn't need to be the case, though-not when you opt for a trenchless sewer line replacement. This work will take all the stress out of this work thanks to the great benefits that it offers:
This process is quicker than a more involved replacement
You'll save money by opting for a trenchless replacement
Your landscaping won't suffer any wear
A trenchless replacement is an eco-friendly option
Look to Our New Jersey Team for Quality Trenchless Sewer Line Replacement Work
Whether you're in need of a trenchless sewer line replacement or a more involved sewer line repair, you need to leave that work in our dependable hands. We make it our mission to provide the results you need when you need them to ensure your plumbing will work properly once more, no matter what kind of damage your lines may have suffered. Give us a call today if you need our dependable work.