Find Any Sewer Line Problems At Your NJ Property With A Sewer Line Inspection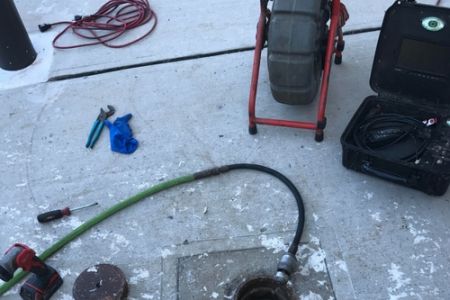 Few things are as frustrating as waking up only to find that you've got a major sewer line blockage on your hands. Fortunately, you don't need to be a sitting duck waiting to have your New Jersey home blindsided by such a problem-not when you can invest in regular sewer line inspections. This work will help to provide peace of mind and even reduce repair costs thanks to the benefits it offers:
Finding the root of a clog
Determining exactly where breakage might be
Check your sewer line's condition
When you need to get your sewer lines inspected, you'll need to look to a professional plumber that you can depend on. That's why you need to look to the pros at Jersey Drains to handle this work. We'll provide quick and thorough results that will keep you aware of any and all issues that may be affecting your drain lines. Don't leave yourself blind to the condition of your drain lines. Instead, let us keep you abreast every year.
Sewer Line Camera Inspection: An Effective Option
One of the most effective means of inspecting your sewer lines is getting a camera inspection. A camera inspection is quick and non-invasive, and it's also able to locate any and all issues developing in it. So, if you're looking for a quick, low-cost, and dependable means of staying abreast of your sewer line's condition, you can't go wrong with a camera inspection.
Reasons to Get Routine Sewer Line Inspection Work Handled
Few things are as frustrating as being blindsided by sudden sewer line blockages or breakages. Just like that, you can find yourself with limited to no use of your plumbing installations until you get your lines addressed. Fortunately, you can avoid this headache by getting routine sewer line inspections. Doing so will benefit you in these great ways:
You'll save money by catching problems early
You'll prevent further problems from developing
You'll be sure to get the right fix the first time
Call Our New Jersey Team for All Your Drain Line Work
So, you've hired us to inspect your sewer lines-and we've found an issue. You don't need to worry, though. Whether that issue is a clog or breakage, you can depend on us to provide the same quality of work for your sewer line cleaning and repair needs. We even offer trenchless sewer line replacements if you're wanting a quick and clean repair for your sewer line blockages. Give us a call for all of your drain line needs today.